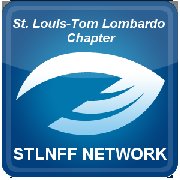 ATTENTION
Connect to

http://stlnff.lockerdome.com/

which is our new interacting website for the St. Louis-Tom Lombardo Chapter of the Nation Football Foundation.

Site will no longer be undated, go to the

LockerDome

site for latest information

MEMBERS OF THE NATIONAL FOOTBALL FOUNDATION ARE DEDICATED TO PRESERVING THE SPRIT OF FOOTBALL, ITS CHARACTER-BUILDING ATTRIBUTES AND IT'S VITAL ROLE IN THE EDUCATION PROCESS. OUR SOLE PURPOSE IS TO AWARD HIGH SCHOOL SCHOLAR ATHLETES WITH SCHOLARSHIP MONEY. THESE YOUNG MEN MUST MAINTAIN A 3.O G.P.A., BE ACTIVE IN THEIR COMMUNITY AND EXCEL ON THE FOOTBALL FIELD.
The St. Louis/Tom Lombardo Chapter has quickly become a driving force throughout the
St. Louis
football community. Founded in 1992, the chapter impacts thousands of high school, middle school and grade school kids with a myriad of programs that successfully carry out the mission of the National Football Foundation.

Interested in Becoming a Sponsor?

The National Football Foundation is an organization of more than 12,000 members active in 120 chapters across the nation. We are pledged to perpetuate the idea that the values embodied in football are not merely athletic, but provide a framework for a thriving and nurturing American society. The Foundation's guiding enterprise is the selection of outstanding young men who exemplify outstanding football ability, outstanding academic accomplishment, and leadership in campus and community events.

The business community in the St. Louis area can help us support these objectives through our Business Partners Program

The St. Louis-Tom Lombardo Chapter, as one of the largest and most active chapters, has awarded approximately $275,000 in scholarships over the past 18 years. Many honorees have gone on to outstanding careers both on the football field and in the business community. We welcome and appreciate scholarship sponsors and offer the following to make your participation more memorable:

Sponsors will receive a one-year membership in the National Football Foundation.

Sponsors will receive two complimentary tickets to our annual Scholar-Awards dinner. Recognition will be given in our printed program.

Recognition will be given on our Chapter Website with a "Link" to your Website.

For additional information regarding our program, and how you can help please contact our Executive Director, Bob Bunton at 636-891-8011 or mailto:glfbnton@swbell.net.

Contributions made to the St. Louis-Tom Lombardo Chapter of the National Football Foundation are tax deductible.


Tom Lombardo

The St. Louis Chapter of the National Football Foundation is named for Tom Lombardo because he embodied the values and character which the chapter seeks to develop and reinforce. Tom was born in 1923 and graduated from Soldan High School in 1941. He attended St. Louis University and transferred to West Point in July 1942, where he was captain of the Army football team. This team scored 504 points to their opponents' 35, a record which will probably never be equaled at the Academy.

Tom was serious, sincere, unselfish, mature, confident, and caring. He led by example, both on and off the field, and acted without pretense or fanfare. Tom's military career took him to Ch'ogye, Korea, where on September 24, 1950; he led a group of volunteers from the company he commanded up a hill to carry out an assault on an enemy position. Casualties were heavy, but the enemy was routed. First Lieutenant Tom A. Lombardo fell just as the enemy abandoned their position.

General Douglas MacArthur said of Lt. Tom Lombardo: "He knew no compromise with duty, nor sought any, but his final breath gave implacable devotion to the immortal legend by which he was trained to serve- 'Duty, Honor, Country.' Let those who struggle for supremacy in sports remain ever conscious that hereto are sown seeds that upon others fields, on other days, will bear the fruits of victory

"Click Here" for more information on Tom Lombardo


Visit the Lombardo's Family of Restaurants. Now Five Locations, around town for lunch or dinner. The Lombardo family began its legacy of fine restaurants in 1934. Come enjoy great food and visit with Angelo, Carmen and his sons Anthony and Michael.

The History of "121 Years" of High School Football in the St. Louis "Metro" area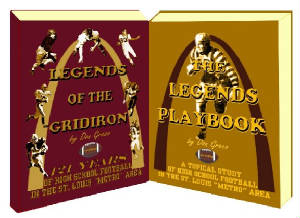 Here's your chance to "Give Back" to the game that gave so much to you. When you purchase a "Legend Series" book a portion of the proceeds will go to the St. Louis-Tom Lombardo Chapter of the National Football Foundation and College Hall of Fame. Visit "The Legends Book Series website at http://stllegends.tripod.com to purchase books. The 2nd Edition includes more stories, more photos and the 2008 season. Show your support of the Gateway City Gridiron.